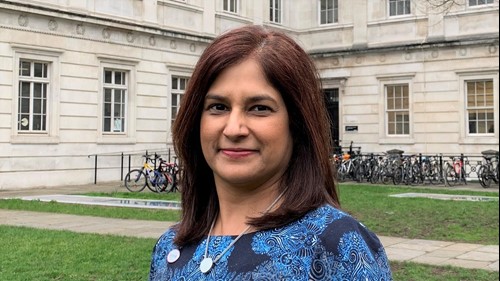 There are multiple routes into research. Dr Roganie Govender is a Consultant Clinical Academic Speech and Language Therapist at UCLH and an ARC North Thames Alumni. She joined UCL's Department of Applied Health Research in November under an NIHR Clinical Lectureship. In the 2021 New Year Honours list, Roganie was awarded an MBE for services to Speech and Language Therapy.
In honour of her recent award, we invited Roganie to share how and why she entered into research whilst retaining her role as a practitioner, and to discuss her work and future goals.
What made you decide to pursue a career in research?
The notion of using research to drive changes in practice is something I was exposed to during my undergraduate training as a speech pathologist and audiologist in my home country of South Africa. My honours research was part of a community-based project to improve healthcare services for people living in peri-rural communities in SA. This research exposure and experience has remained with me over the years.
However, I was equally excited to be practising as a clinician when I graduated. I have, over the years, moved countries and worked my way up to becoming a consultant speech and language therapist, specializing in head and neck cancer. During this period, I attempted to get involved in research whenever the time and opportunity afforded. The reality is that as a full-time clinician, doing research is often viewed as an "added extra" done in one's own time.
My decision to actively seek out an opportunity to pursue research was made at a juncture in my career: I had reached a senior clinical post and had "mastered" many of the clinical skills for my job. I was becoming much more curious about why we did things in a certain way and what better ways of working there might be to get the best outcomes for our patients. So really, my only outlet for these burgeoning questions was to try and find a role that allowed me to combine clinical work with research.

How did you make the transition into research, and how has this changed your work?
It was fortuitous that my growing aspirations for a combined clinical and research role aligned well with the goals of, what was then, the fairly new NIHR clinical academic training pathway for nurses, midwives and allied health professionals. I applied for and was successful in my first research fellowship with the NIHR at the end of 2013, the clinical doctoral research fellowship (CAT-DRF). The fellowship gave me the opportunity to do formal research training and set me on a path to build the career I sought: patient-centred research that is topical, relevant, and inspired by the patients I work with in my clinics.
After completing my doctoral fellowship, I took some time to think about what I wanted from the rest of my career. I felt my world had enlarged well beyond the specific interests of my professional field, and I wanted the opportunity to apply what I had learned within my field, whilst continuing to learn from other disciplines. My work has changed enormously through my interdisciplinary collaborations with researchers in behaviour change science, applied health research, medicine and population health science. I feel that I can apply a much wider lens to clinical and service delivery problems I encounter in practice, and therefore I can be more resourceful about seeking best solutions. I think differently now than I did a few years ago and I feel a whole new level of curiosity and enthusiasm about my clinical practice.
I know that many colleagues describe a feeling of "falling off the cliff" after a PhD. I can definitely relate to this as I recall the anxiety I felt toward the end of the PhD about what happens next. I think that there are now increasingly more opportunities to enable individuals who wish to pursue a clinical-academic career to do so.  I applied for and was successful in obtaining a part-time post-doctoral fellowship from CNMAR for one year, followed by 6 months of part-time bridge funding from the NIHR CLAHRC North Thames. This allowed me to maintain a balance between clinical work and research activity, but also enabled me to make an application for a further fellowship. 
I was delighted to be awarded the NIHR ICA Clinical Lectureship earlier this year. Through this award, I will receive the high-level training I seek in running clinical trials of complex interventions and in undertaking process evaluation as part of a clinical trial. I will also be able to build on my PhD work and, in so doing, hopefully effect changes in clinical outcomes for patients with head and neck cancer. I am fortunate to be surrounded by outstanding managers, supervisors and mentors at UCL and UCLH and with their guidance, I feel very positive about both my learning and the contributions I can make through my clinical lectureship.
What do you consider to be the benefits of closing the gap between research and practitioners?
Healthcare practitioners are at the front line of patient care and often know and see problems that researchers might miss, but that they have little time to delve into. Researchers are often looking for good ideas to explore, and have the knowledge and skill set to design and undertake research that practitioners may lack. The fact that historically, researchers have been based at a higher education institution (HEI), and practitioners or clinicians within healthcare and the NHS, means that the research and practice domains were not particularly conducive and not being optimally exploited for the acquisition of new knowledge.
Translation of knowledge into clinical practice can be expedited if practitioners are part of the research team as they can feed into tackling the most relevant research questions. Research can optimise practice and patient outcomes and prevent knowledge stagnation for practitioners. I feel incredibly privileged to be wearing both hats. As a clinical-academic, I work across both a HEI and the NHS and I look forward to the opportunities this brings for improved patient care, better collaborations, improved knowledge translation, input into training and education, and so much more.
What are your goals for the future?
Aside from delivering on my project, I plan to use the clinical lectureship to support my role as a clinical-academic within the Head and Neck Academic Centre (HNAC) at UCLH. The centre is an opportunity to be a part of something new and is currently at a development stage. As a clinical academic, I hope to be able to contribute to the HNAC and promote a philosophy of multidisciplinary collaboration to improve patient outcomes.
I am currently one of three nationally appointed NIHR training advocates for Speech & Language Therapy. One of my goals is therefore to facilitate other SLTs to navigate their way through the opportunities offered by the NIHR so that we can grow the critical mass of individuals who wish to pursue research careers. The fellowship route was a good fit for me, but there are many different opportunities through which individuals may engage in research and hopefully I can help with sign-posting colleagues.
I am also involved in work with multiple groups, including the Royal College of Speech & Language Therapists looking at how to embed equality, diversity and inclusion into SLT training and research in a meaningful way. Over the last year, much of my non-clinical time was spent on projects in response to the pandemic. One of my goals is to reflect on what I, and the teams I work in, can take forward to improve future practice and patient care.
Yes, I have a long list of things I want to achieve. An important personal development goal is to also become better at deciding priorities by learning how best to be open to new opportunities, whilst also maintaining focus and a satisfactory work-life balance. Fortunately, I have wonderful and wise mentors!

Roganie is an ARC North Thames Academy alumni and a CLAHRC North Thames (our predecessor) bridging fellow. Find out more about the work of the Academy and the opportunities available to help you develop your skills and bridge the gap between research and practice. 

Further information and links
Dr Roganie Govender awarded an MBE
Roganie has written seven papers based on her PhD research. The most recently published is available through open access and is hosted by BMC.
Her other papers can be found on her researchgate page.