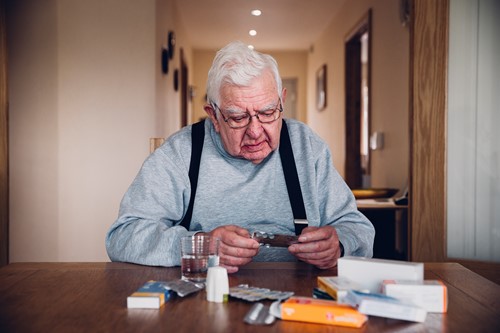 Multimorbidity refers to when someone is living with multiple long-term health conditions at the same time. 54% of people over 65 have multiple health problems and this is projected to rise by 14% by 2035.
We are examining demographic differences in service use, experiences and outcomes, and test ways to reduce inappropriate prescribing, improve frailty detection, improve the quality of NHS treatment, and how services connect. 
We work closely with our local and regional communities to co-produce research and ensure it meets local needs, as well as ensuring our work can be applied more broadly and addresses national priorities on complexity of care, long-term conditions, primary care, mental health and urgent care.
Our research methods include informatics using local and national data, providing solutions which benefit patients and providers, and mixed quantitative and qualitative
methods to identify patterns and impact of multimorbidity, effective interventions, unintended consequences and economic impacts.

We are continually building on our collaborations with Cancer and Mental Health Policy Research Units (PRUs), and ARCs across London and the UK.


Discover some of our multimorbidity projects:
Evaluating services for older adults with multimorbidity across health and social care
Talking multiple medicines: conversations between people with dementia and informal carers
Navigating systems of care for working-age adults
Investigating variations in care amongst people with multiple morbidity using linked council and NHS data
Using linked NHS and council data to advance understanding of the social determinants of multimorbidity
Co-morbidity in people living with and beyond cancer
Improving frailty detection and management in primary care with the Electronic Frailty Index
Somatic and psychotropic polypharmacy in people with long-term mental health problems
Characterising the relationships between polypharmacy and multiple long-term conditions
Enabling health and maintaining independence for older people at home: the 'HomeHealth' trial
Health inequalities in People with seveRe mental Illnesses: Impact of antipsychOtic tReatments and social Inequalities on long Term phYsical health (PRIORITY)
Understanding the trajectory of frailty across the life course.
Incidence and prevalence of osteoporosis and fragility fractures in the UK
Physical health and multimorbidity in people with severe mental illness and impact on secondary care utilisation
Multimorbidity in patients living with and beyond cancer