Dr Alex Sohal is a GP and an Honorary Clinical Senior Lecturer in primary care at Queen Mary University of London. Alex speaks to ARC North Thames about her research journey as a GP-Academic, how this has supported her to better care for patients, and the unforeseen challenges of the COVID-19 pandemic.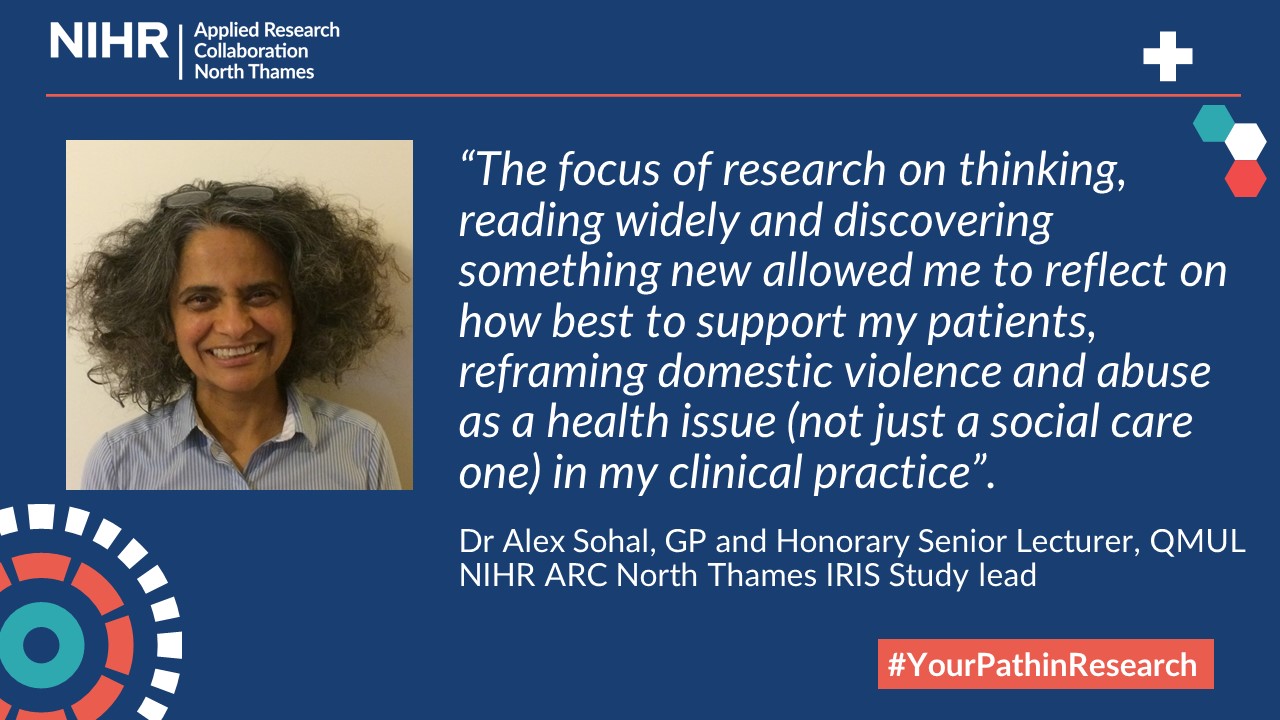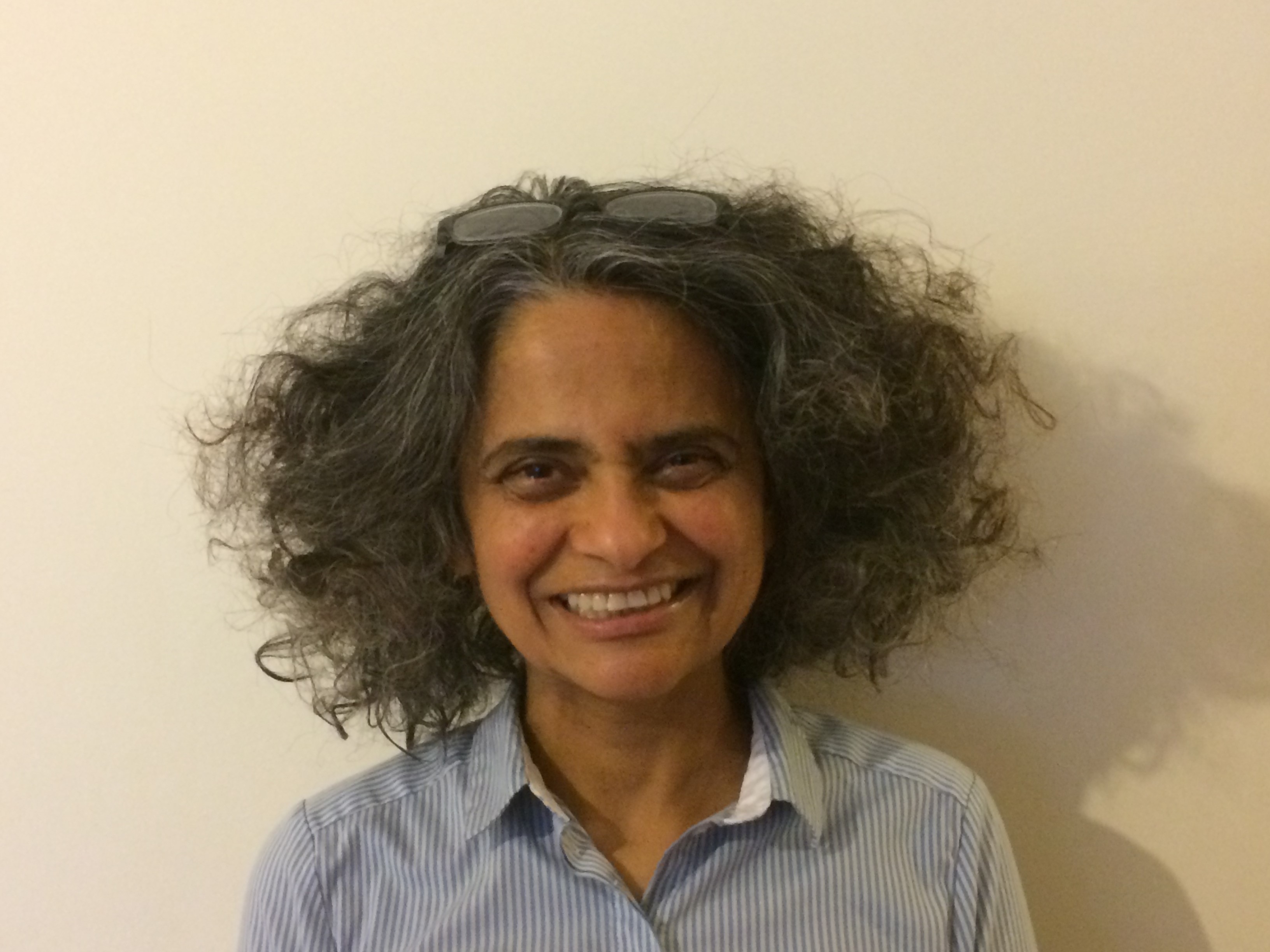 Alex has spent much of her career working to tackle Domestic Violence and Abuse (DVA) and health inequity, through both her clinical and research practice. She led the ARC North Thames IRIS study to support primary care teams in identifying and referring women affected by DVA, for which she recently received the 2020 RCGP Research Paper of the Year award.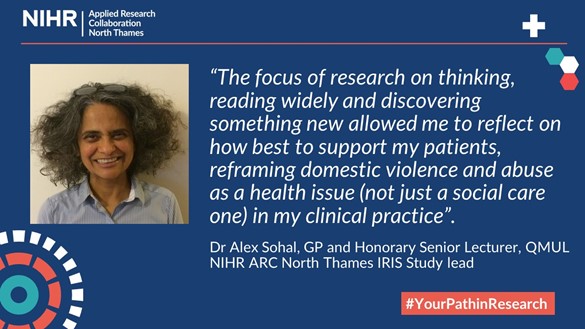 First foray into research
I don't think I ever actively decided to pursue a research career, opportunities arose and I always jumped at the chance to be paid to think, whereas being a GP is being paid to do things - to see and manage patients - so it's very different.
My Medical Elective whilst at the Leeds University School of Medicine was my first experience of medical research, in which I tried to improve growth monitoring of children by their mothers, in a rural area of Kwazulu-Natal in South Africa. It was just after the first democratic elections, an electrifying time to be in South Africa. My research letter was published in the Lancet, maybe that was when I got the bug!

More senior men who thought that my medical student project would not amount to anything, and were not involved in the work, suddenly wanted to be co-authors when they realised that I had written up a research paper ready for publication. I thought this was plain wrong, and I resisted these requests whilst not understanding the political ramifications. This has been a recurrent theme in my research career over the last thirty years.

Turning research into action on domestic violence and abuse 
Much of my work has focused on Domestic Violence and Abuse (DVA), the largest risk factor for poor health in women of reproductive age. I was the RCGP Clinical Champion against DVA from 2011 to 2014, a role that I shared with Professor Gene Feder OBE. Professor Feder had been my Supervisor for my MSc in Primary Care research and then my MD(Res) higher research degree, to identify intimate partner violence in general practice. Without his mentoring and support, I wouldn't have had the opportunities to work in this area.
Professor Chris Griffith approached me about the then new NIHR Collaboration for Leadership for Applied Health Research North Thames (CLAHRC North Thames). He had been involved in the original trial of IRIS (Identification & Referral to Improve Safety), a training and support programme to help primary care teams identify and refer women to specialist trauma-focused DVA care, and asked me if I had any ideas to apply for funding. I shared my idea of trying to improve the healthcare response to DVA by implementing the IRIS programme across GP surgeries in east London.
We got the CLAHRC funding and I led and co-designed the implementation study across 205 GP surgeries alongside Professor Griffiths. The study has supported commissioning of IRIS, with IRIS growing from 12 areas at the start of the study, to now running in 40 areas across the UK. 15% of all general practices have been trained, with over 21,000 women referred for support since the programme began. The study has recently been awarded the RCGP Research Paper of the Year 2020 in recognition of this impact!
Over the last twenty years, I have remained very motivated due to my experiences of seeing patients affected by DVA in general practice consultations. My parents have always understood the significance of my work for women's health. They never hid the harsh realities of others' lives from their children including stories of misogyny (an old man yelling at my Mum when she was a child "girls don't go to school") and abusive controlling Uncles in our extended family - one who was only stopped by the joint efforts of my parents and the intervention of a quick-thinking NHS Scottish Health Visitor 45 years ago.

The benefits of a GP-led research approach
I don't think IRIS would have worked if it hadn't been a GP-led intervention. We know the challenges of DVA referral at a grassroots level and how vital it was that the IRIS intervention did not increase GPs' workloads. GPs don't have the time or expertise to offer the in-depth support some of these patients require. So equally important is the IRIS joined up approach to advocacy and training, bridging the two planets of primary care and specialist domestic abuse support services. It is the mix of staff from health and specialist abuse services that makes IRIS work.
I have been a GP in east London for twenty years, using my experiences of seeing patients to nurture an academic GP career. Research has given me the time to think about difficult clinical scenarios and how to better manage them, undoubtedly improving my clinical practice.
The focus of research on thinking, reading widely and discovering something new allowed me to reflect on how best to support my patients, reframing domestic violence and abuse as a health issue (not just a social care one) in my clinical practice. This gave me the confidence over the last twenty years to ask patients about their lives and relationships, which has been fascinating and joyful - there are a lot of loving people out there.


Rising to the challenges of a pandemic
The COVID-19 pandemic has led to a massive impact on general practice. GPs are responding to women who are dealing with domestic violence and abuse as part of their everyday lives, and we know that more women were calling abuse helplines in lockdown. More than ever, GPs need a programme like IRIS to support them in responding to DVA effectively.

Remote consulting has had its benefits. When consulting over the phone, the clinician can read and process the wealth of information in the electronic medical record (EMR) in real time, something not possible with face to face consultations. An EMR contains important information for assessing patients from third parties, social services and the police. It has also been easier to insist on seeing patients on their own, without family members, which is vital when exploring the possibility of DVA.

Another focus of my work that has emerged during the pandemic is on improving the primary care response to COVID-19. On the GP frontline, it has been obvious that the UK COVID messaging has not been fit for purpose. Guidance has wrongly suggested that a "cold cough" can be distinguished from a "covid cough" when it cannot; and that there are three main covid symptoms – when there are not. This incorrect messaging has caused harm and I have been trying to campaign for better guidance with a consortium of 140 GP colleagues, including writing an Open Letter to Chris Whitty.

In March this year, Chris Whitty approved GPs to advise patients on COVID-19 PCR tests without being constrained by the publicly shared triad of symptoms, but more change is still needed. At my last urgent care session, I reviewed 15 patients with viral symptoms – including coughs and high temperatures –and only one had correctly organised the right COVID PCR test. I think this confusion has contributed to the ongoing very high covid case numbers in the UK, unlike our European neighbours who have been using the right WHO covid case definition. Sadly, no-one with power has prioritised putting this right. My campaign for change has been challenging and continues!

On a personal note, my care privileges have increased since the start of the pandemic (as is the case for many female academics), looking after my lovely frail elderly parents, my unique sister with a learning disability and my amazing young daughter. Hence, I don't have the time needed to write lengthy funding applications – it was always difficult but now it's a remote possibility!


Some final advice
Find something you feel about deeply, then find others who are already involved in that research, who can support you and help you pursue a research career. Funded research that is going to potentially result in change is a group activity - it can't be done on your own.
The views expressed in this blog are those of the author(s) and not necessarily those of the National Institute for Health Research or the Department of Health and Social Care.

Related links
Improving the primary care response to domestic violence and abuse (DVA) – impacts of the IRIS programme
Study demonstrating the effectiveness of the IRIS DVA programme wins RCGP Research Paper of the Year
IRISi: Social enterprise to promote and improve the healthcare response to gender based violence