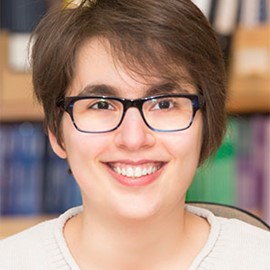 Dr Eirini-Christina Saloniki
UCL
ARC ROLE
Health Economist, Research Partnership Team
PROFESSIONAL ROLE
Senior Research Fellow in Health Economics, Department of Applied Health Research, University College London (UCL)
EXPERTISE AND INTERESTS
Eirini's research interests lie in the areas of health economics, economics of disability, economics of discrimination and applied microecometrics. She has a strong interest in discrimination faced by disabled people in different areas, including the labour market, and how such discrimination can be measured using survey data.
Additionally, she has been involved in several studies with an economic evaluation component (oral health, mental health, genetic disorders, chronic conditions) and cross-national studies (wellbeing programme for patients with diabetes, effectiveness and efficiency in long-term care).
Eirini was part of the research team who estimated preference weights for social care-related quality of life in the UK, Finland and Austria. She's currently involved in a large UK controlled trial for boys with haemophilia.
Back to top